Dental Implants – Abingdon, VA
Reclaim Your Modern Smile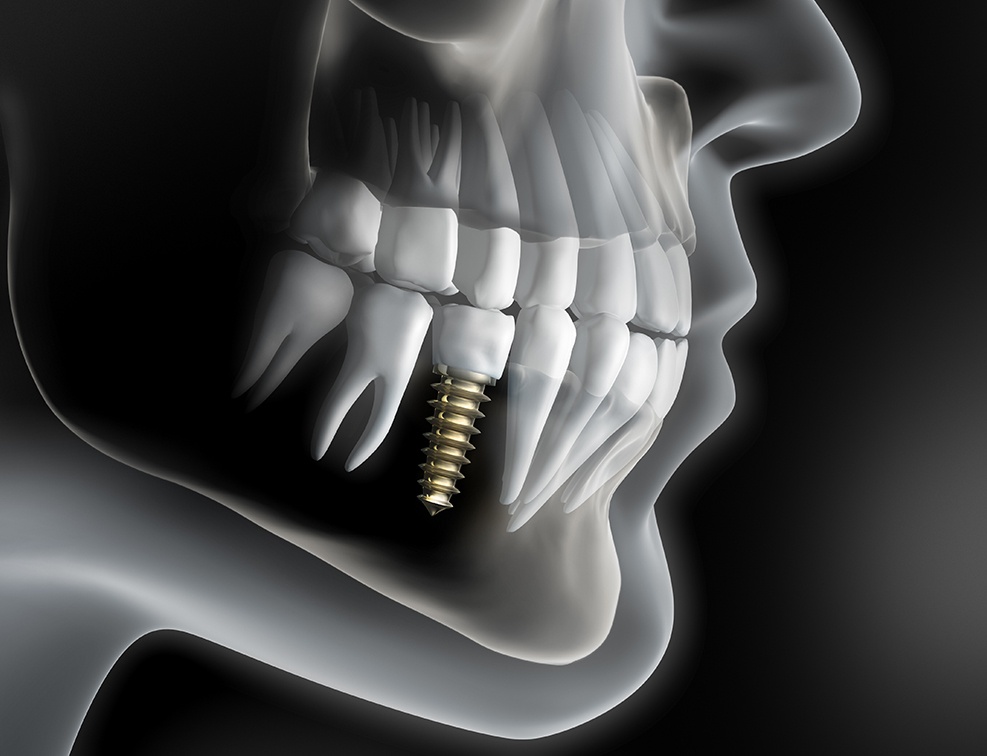 Traditionally, when you lost one or more teeth, the dentist would only replace the parts of your teeth that were visible when you smiled. Within the past few decades, dental implants have taken the dental world by storm. Because they replicate a tooth's root as well as its crown, they end up feeling as natural as they look. Whether you just have a tiny gap in your grin or you need to replace a full row of pearly whites, dental implants are by far the most comprehensive and beneficial way to rebuild your smile after tooth loss. To learn more about dental implants from our Abingdon, VA dentist and how they can help you, contact our dental office today!
Why Choose Amburgey Dental for Dental Implants?
Dentist with 15 Years of Experience
Partners with Local Dental Implant Specialists
Restorations 100% Personalized for Each Patient
What Are Dental Implants?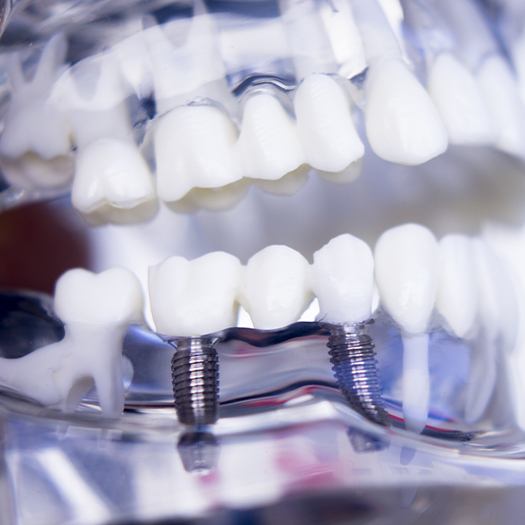 Dental implants are screw-shaped posts that are often made of titanium (although zirconia implants are becoming increasingly popular). They are surgically inserted into your jawbone to take the place of your teeth's roots. Once they have been placed, the surrounding jawbone grows around the implants, creating a sturdy base for any number of prosthetic teeth. When placed successfully, dental implants help your new teeth feel and function just like your original ones.
Benefits of Dental Implants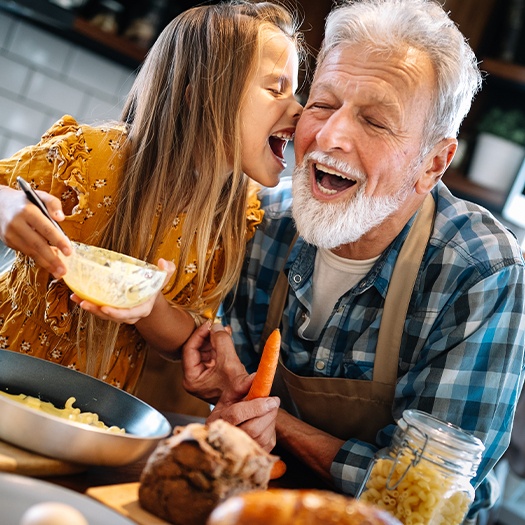 There are plenty of reasons why you'll want to replace a lost tooth right away, but dental implants offer many unique advantages over traditional alternatives. For example:
You won't have to worry about your new teeth slipping out of place like you would with a conventional denture.
We custom-make your porcelain restorations to match the pearly whites you were born with.
The implants stimulate your jawbone to prevent it from breaking down as it normally does after tooth loss. This allows you to keep looking young for much, much longer.
Unlike a denture that requires its own cleaning special techniques, caring for implant-supported teeth is often as simple as brushing, flossing, and attending dental checkups on a regular basis.
With the right maintenance, dental implants can last 30 years or longer. Some patients have had their implants last for the rest of their lives!
Are Dental Implants Right for You?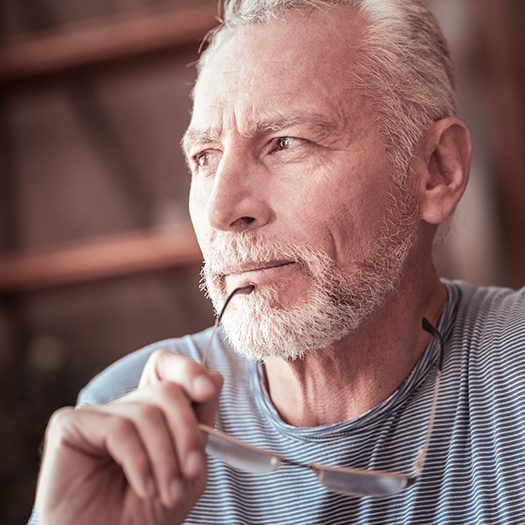 To determine whether dental implants are the ideal treatment for you, Dr. Amburgey will first need to closely examine your mouth. Specifically, he'll have to confirm that there's enough jawbone density to support the implants and there is no gum disease that could eventually lead to implant failure. From there, we can begin planning your unique treatment. Depending on how many teeth you've lost, you may receive a crown, bridge, or denture.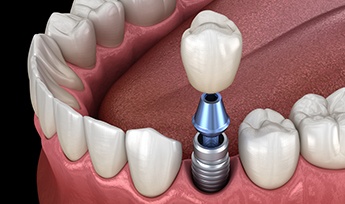 Missing Single Tooth
If you've only lost one tooth, a single implant post can be placed where that tooth's root once was. Once it has fused with the jawbone after a few months, we can restore the implant with a beautiful, lifelike dental crown.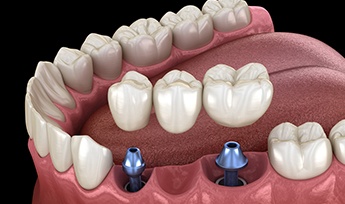 Missing Multiple Teeth
For patients who have lost at least three consecutive teeth, a dental bridge can be supported by implants rather than natural teeth. This option is far more conservative than a traditional bridge, which requires that the structure of adjacent teeth be reduced to make room for the restoration.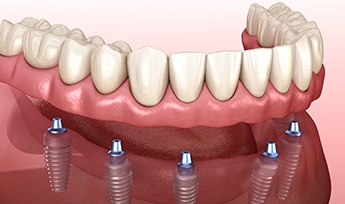 Missing All Teeth
Full dentures sit on the gums and rely on suction or messy adhesive to stay in place, but sometimes they slip around anyway. As a sturdier alternative, we can secure a denture onto four to six implants that have been strategically placed throughout the jaw.
Mini Dental Implants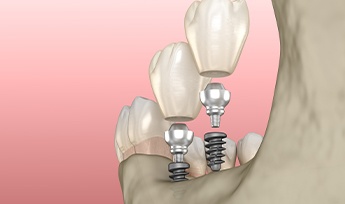 Patients who have been missing teeth for a long time tend to have weakened jawbones that are not strong enough to support traditional implants. The prosthetic roots of mini dental implants are thinner and shorter, allowing them to create a strong foundation for a stable full denture.
Partners with Local Specialists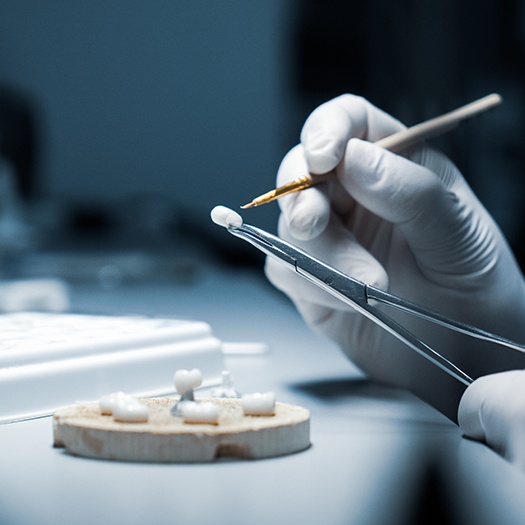 The risk of dental implant failure is extremely low, but you never want to take chances when it comes to your smile's future. If we decide that you're a good candidate for dental implants, Dr. Amburgey will refer you to an implant specialist in the Abingdon area who will plan and execute the procedure with incredible precision. Once you've finished healing, you'll return to our dental office to receive your personalized prosthetic and complete your smile.
Understanding the Cost
of Dental Implants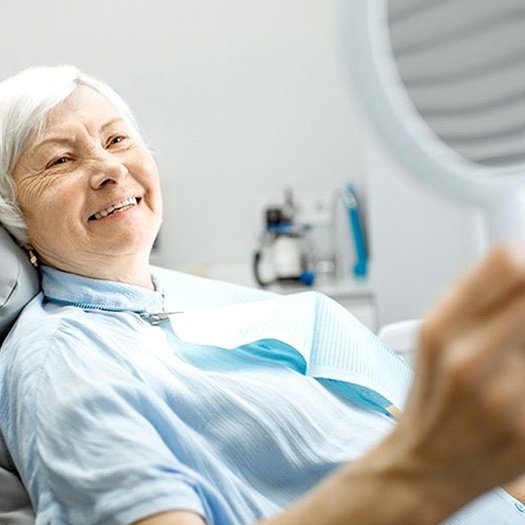 While dental implants typically have a higher upfront price than bridges or dentures, they're a better long-term investment. They're designed to stay in your mouth for a very long time, ideally for the rest of your life. Traditional solutions must be replaced every decade or so, which can rack up an even greater cost over the years than what you initially paid for your implants. It's also important to keep in mind that the cost of dental implants in Abingdon is different for every patient, as there are a number of variables to consider.
Preliminary Treatments & Dental Implant Surgery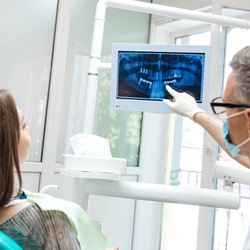 Some patients might not initially be good dental implant candidates. Although there are preliminary procedures you can undergo, like bone grafting to strengthen a jawbone that has been weakened after tooth loss, they will increase your overall cost of treatment.
It's worth mentioning that for the dental implant surgery, Dr. Amburgey will refer you to an expert implant dentist in Abingdon. This procedure will incur its own cost, which will vary based on the type of anesthesia or sedation you receive.
The Parts of Your Dental Implant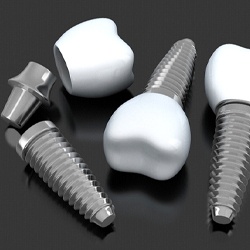 The number of implant posts you'll need will certainly influence the cost, but so will other factors. For example, dental implants from various brands or manufacturers might be ideal for different patients. It's also important to consider the material your implants are made from, as they all come with their own unique price.
Final Dental Implant Restoration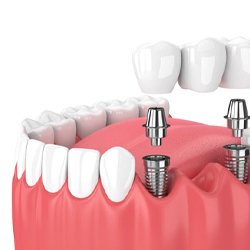 The type of replacement tooth or teeth you're receiving will also affect the cost. A dental crown that goes over a single implant post, for instance, will cost less than a dental bridge supported by two implants. In the same vein, a full implant denture will have an even higher price tag.
Does My Dental Insurance Cover Dental Implants?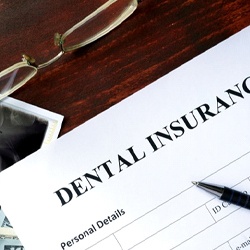 While most dental insurance providers do NOT cover dental implants, there could be exceptions. Many insurance companies offer partial coverage for some portions of the treatment, such as the consultation or your final restoration. Our experienced team members will help you navigate the ins and outs of your plan to ensure you're maximizing your benefits.
Making Dental Implants Affordable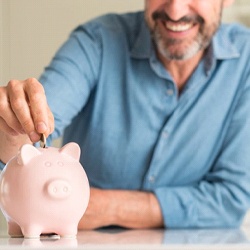 At Amburgey Dental, we have non-insurance ways of helping patients afford dental implants in Abingdon. One of these is CareCredit. This reliable financing company offers multiple low-interest payment plans to choose from, so there's sure to be one that can fit within your budget. As an alternative to insurance, our in-house dental membership plan can help you save on most of our services in exchange for a low annual or monthly fee.