INVISALIGN – ABINGDON, VA
Achieve the Beautifully Straight Smile You Deserve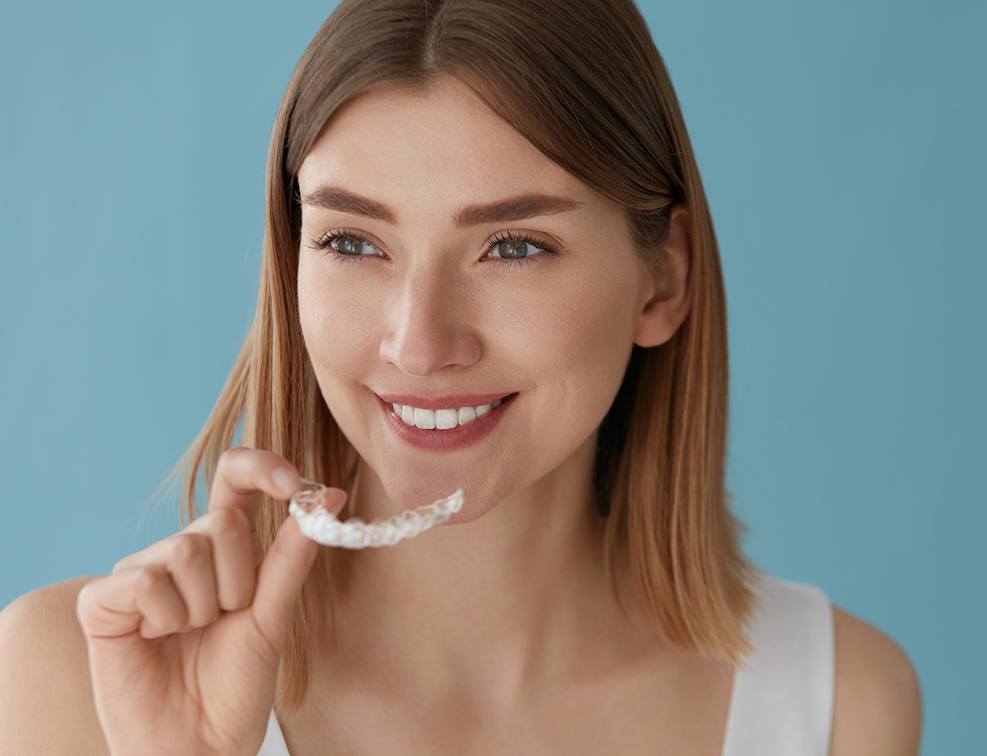 When most of us are asked to describe an attractive smile, we typically mention straight teeth. However, well-aligned teeth offer more than just aesthetic advantages. They're easier to keep clean, reducing your risk of getting cavities and gum disease. Also, they can even out your bite, making you less likely to damage your teeth by grinding them. These days, you don't even need to wear a mouthful of metal to achieve the beautifully straight smile you deserve. Thanks to modern advancements in dental technology, Dr. Amburgey can help you straighten your pearly whites without anyone even noticing! Contact us today to get started on aligning your smile with Invisalign in Abingdon, VA.
Why Choose Amburgey Dental for Invisalign?
Treatment 100% Personalized for Each Patient
Often Works Faster Than Metal Braces
Dentist with 15 Years of Experience
How Does Invisalign Work?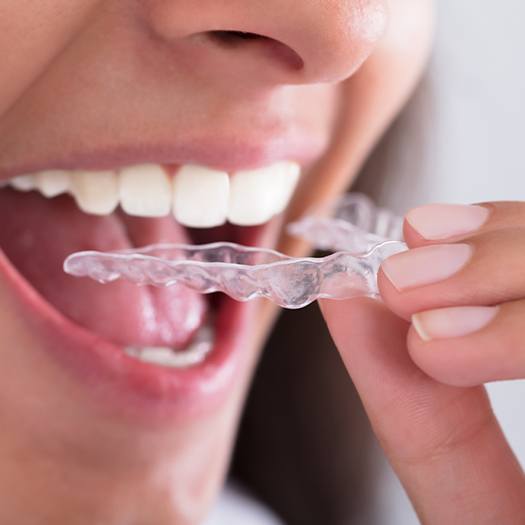 Invisalign works by shifting the teeth in the same way that metal braces do, but instead of bulky metal brackets and wires, it uses transparent plastic aligner trays that comfortably fit over the teeth. They practically disappear when you wear them, allowing you to smile confidently without shining a spotlight on your orthodontic treatment. Because you can remove them to eat, drink, and clean your teeth, they're also more convenient than braces. The average treatment time for Invisalign is just 12-18 months, which is a fraction of the two to three years it often takes for traditional braces.
Indications for Invisalign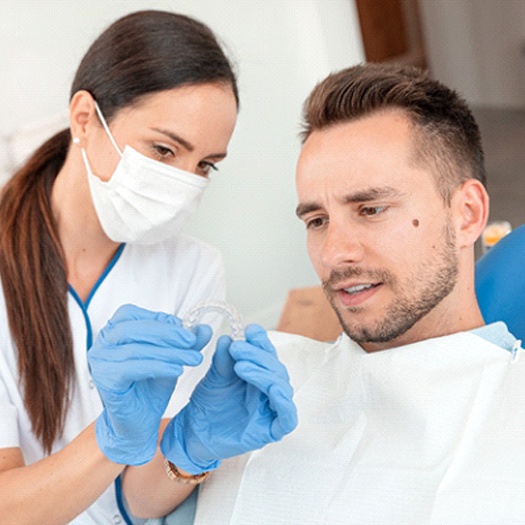 These clear aligners are considered to be extremely versatile when it comes to fixing several orthodontic problems. Whether it is overcrowding, gapped teeth, or a misaligned bite, you can count on Invisalign to help.
Crowded Teeth
Teeth that are situated too close to each other can make it difficult to maintain good oral hygiene. Brushing and flossing can be nearly impossible, as bacteria and food particles can easily become trapped in the crevices of your smile. With Invisalign, the braces can move your teeth and create the necessary space that will allow you to have a more beautiful aesthetic and improved oral health.
Spaces Between Teeth
When spaces develop between teeth, you will find you are far more susceptible to tooth decay and gum disease. You may even suffer from low self-esteem because of how you look. Invisalign clear aligners are capable of eliminating unwanted space and bringing your teeth into proper alignment.
Misaligned Bite
Overbites, underbites, crossbites, and open bites are no match for Invisalign. Chronic jaw pain and excessive wear and tear on your teeth are no longer a problem when clear aligners begin to shift your teeth in the right direction, allowing them to align and work in sync.
How Do I Care for My Invisalign Aligners?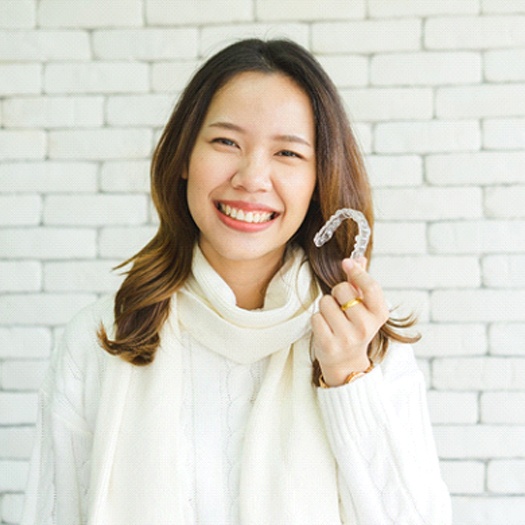 Keeping your aligners clean is a guaranteed way to avoid a delay in treatment. While you will need to make sure you keep your trays in a protective case while eating and drinking, you'll also want to make sure you're cleaning them regularly. All you need is clear soap, a soft-bristled toothbrush, and lukewarm water. Yes, you can buy the Invisalign Cleaning Crystals system, but if you want to save some money, use the above-mentioned items you probably already have at your house. This will remove dried saliva and any bacteria you don't want to transfer onto your teeth when you reinsert your trays.
You'll also need to remember to rinse your trays each time you take them out and right before you put them back in.
What are the Benefits of Invisalign?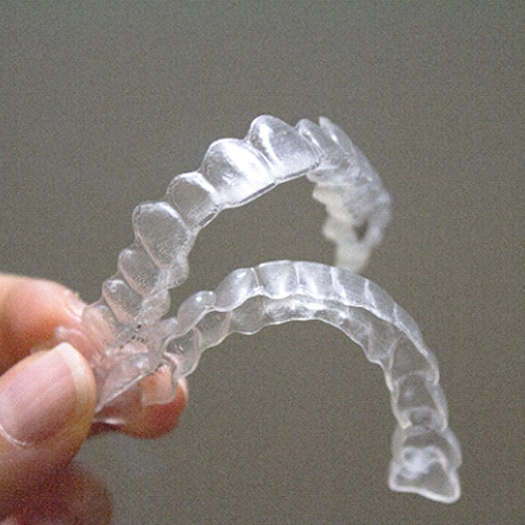 Unlike traditional braces, Invisalign offers many great benefits to individuals looking for an effective, alternative solution to a straighter smile:
Aligners are made of clear plastic, making them discreet and undetectable when surrounded by others.
They offer a more flexible method of treatment, allowing you to remove your trays before eating, drinking, participating in sports, or playing a musical instrument.
Invisalign produces faster results (depending on the severity of your case).
The aligners are smooth, making it less likely you'll experience irritation to your soft oral tissues.
You'll enjoy fewer (and faster) follow-up appointments with our team because there are no wires to adjust or replace.
Understanding the Cost of Invisalign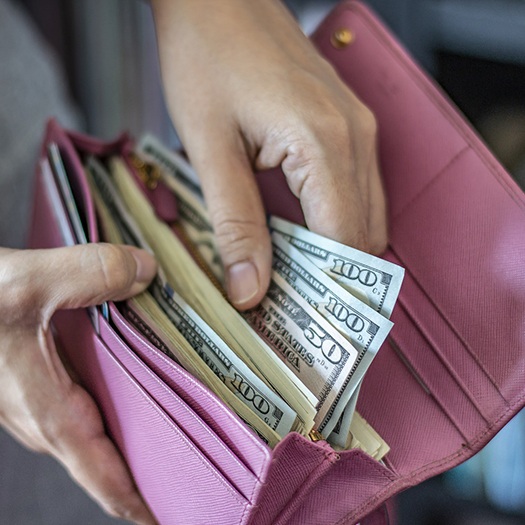 If you are dreaming of a straighter smile, Invisalign could be the answer. This treatment has so many unique benefits that you can't find anywhere else, but it's important that you understand the cost of Invisalign before making any commitments. No one wants to end up with unnecessary surprises. To learn more about how much your Invisalign treatment will cost, give us a call so we can get you started with an initial consultation. In the meantime, here are some things to keep in mind.
Factors that Affect the Cost of Invisalign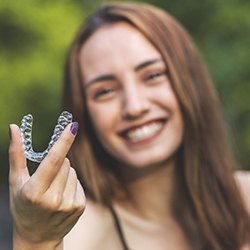 The cost of Invisalign will vary from person to person based on several different factors. Here are a few of the more prominent ones:
Number of Arches: Most people undergoing Invisalign treatment will straighten both their upper and lower arches. However, in some cases, only one arch needs to be addressed. If this is the case for you, the cost will be lower.
Complexity: If you have more severe misalignment issues, your treatment is likely to cost more. For instance, closing a few gaps is cheaper than correcting a significant bite problem.
Length of Treatment: A longer treatment time means more aligners and a higher cost.
Invisalign VS Smile Direct Club™: Which Costs More?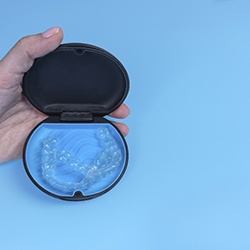 When a patient is looking for a "quick fix," lower budget options, like Smile Direct Club™, may seem like a tempting choice. However, a lower cost doesn't mean that it's a better option. While the price is generally lower than Invisalign, Smile Direct Club™ has a "do it yourself" approach with little oversight from a dental professional. This ultimately means more room for errors to be made. You could even end up with serious issues that will need to be treated by a professional anyways.
The good news is that with Invisalign, you have the trusted oversight of Dr. Amburgey for every step along the way. Invisalign is professionally made, uses highly accurate impressions, and will result in a more successful treatment process overall. The cost difference is certainly worth it for a smoother, worry-free treatment.
Does Dental Insurance Cover Invisalign?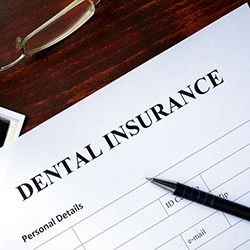 Some dental insurance plans include coverage for orthodontic treatment, so it's a good idea to check with your provider to see what your benefits entail. Our practice is in-network with Delta Dental, United Concordia, and many more dental insurance plans. We are also happy to accept all PPO plans, and we'll handle the paperwork for you!
Options for Making Invisalign Affordable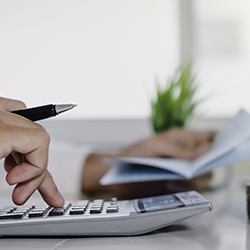 If you don't have dental insurance, this doesn't mean that you are completely out of luck. We have another option to help make your treatment more affordable. CareCredit is a third-party financing company that can split the cost into manageable monthly installments with little-to-no interest for approved patients.
We are looking forward to helping you achieve a straighter smile. To learn more about how much this treatment costs, contact our office to schedule a consultation.
Invisalign FAQ's
If you're considering Invisalign in Abingdon, you probably have questions about the treatment. For any specifics, please don't hesitate to contact our office to speak with one of our friendly team members. However, we also want to make the information you need as easy to access as possible, which is why we've included a list of answers to the most frequently asked questions that we get about Invisalign.
Is Invisalign Easy to Use?
One of the reasons that patients love Invisalign is that it's incredibly simple to use. Your aligners are easy to put and in take out, plus there are no sharp or jagged edges that cause irritation. If you do have any trouble taking your aligners out, just try to pop one of the back edges loose with your finger or fingernail. Once one part is loose, the entire aligner should be much easier to remove. Remember, keeping your smile AND your aligners clean will make it hassle-free to use your Invisalign.
Does Invisalign Work Like Braces?
Just like traditional braces, Invisalign gradually shifts your teeth into a beautifully straight position. They essentially work the same, however it's important to understand that braces can help more patients. While Invisalign can only correct mild to moderate misalignment, traditional braces can fix severe underbite, overbite, and crossbite in addition to straight teeth.
Why Choose Invisalign Over Mail-Order Aligners?
The internet and social media have made it easier than ever to straighten your teeth with many companies offering mail order aligners. While this option may seem amazingly cheap and convenient, you're always better off trusting your smile with a true professional like Dr. Amburgey. Unlike mail order aligners, you'll have professional supervision throughout the entire process. We make adjustments and catch issues early on, so they don't cost you more time and money in the future like with some cases of mail order products.
What Should I Do if I Lose or Break an Aligner?
Did you lose or break one of your aligners? If so, contact us right away for a replacement. We may recommend that you use the previous aligner in the series to maintain your results until we can give you a new one. To avoid damaging your aligners, place towels on the sink and/or floor when cleaning them. That way, if you happen to drop one, there will be something soft to break their fall. Another easy tip is to always have your Invisalign case on you, so if your aligners aren't in your mouth, they're safe in your pocket (and not lost).
What Happens After I Complete My Invisalign Treatment?
Once you complete your Invisalign treatment, ensuring that you follow our instructions, you'll be given a retainer at your appointment. This is a very important part of your treatment because it maintains the beautiful results you've spent so much time on. Typically, you'll start by wearing your retainer every day, followed by only at night, and then just a few nights a week if all goes as planned.